The work - an interactive introduction
Piano Figures explained by George Benjamin and performed by Pierre-Laurent Aimard
I. Spell
II. Knots
III. In the Mirror
IV. Interruption
V. Song
VI. Hammers
VII. Alone
VIII. Mosaic
IX. Around the Corner
X. Whirling
To watch the introductions and performances of the different pieces as a continuous film click here.
About Piano Figures
Composing as a game – George Benjamin's Piano Figures
In April 2004 the French pianist Pierre-Laurent Aimard found an unexpected message in his in-box. It was a "little surprise" from his long-time friend, the British composer and conductor George Benjamin. Benjamin and Aimard had got to know one another in France in the 1970's. The two highly talented young musicians were studying with Olivier Messiaen and his wife Yvonne Loriod at the Paris Conservatoire and soon became close friends. Later, when both had become internationally known, that relationship intensified; Benjamin composed for Aimard and Aimard played Benjamin.
Piano Figures is a collection of ten concentrated miniatures for piano with a total playing time of about 15 minutes. Each piece is given an evocative title – for example "Spell", "Knots", "In the Mirror" – and written within the stretch of a child's hand. Benjamin originally wrote the work for his nephews and nieces and dedicated it to them: "For Sam, Rosie, Alex and Francesca." It was therefore logical that it should fall to young pianists to share the premiere of the work. On 18th May 2006 Piano Figures was first heard in the Philharmonie Luxembourg at a preconcert performance by piano students who had studied the work with Aimard, then performed by Aimard himself at the "Piano evening" that followed.
George Benjamin is, on his own admission, a composer whose creative process unfolds slowly. So it surprised him that the first version of Piano Figures took him only three months to complete. During a long interview with Richard McNicol, he spoke about the challenges of contemporary composition. The beginning of the 20th century, says Benjamin, saw a fundamental change in the world of composition. In the search for a new musical language many composers departed from tonality, regular rhythm and metre, and easily remembered melodies. This led to a bewildering diversity of idioms and musical languages. As a result, he explains, every composer today faces the huge challenge of finding his or her own path to developing a coherent musical language.
Behind each piece in Piano Figures lies a specific compositional task. For each miniature the composer lays down clear compositional rules whilst at the same time being prepared to undermine them. This fascinating game of alternately observing and breaking the rules enlivens the music and creates opportunities for surprises and spontaneity. A good example of this is demonstrated in the first piece, "Spell". The underlying rules are that the accompaniment in the right hand moves stepwise, exclusively in sevenths on the white keys, with no leaps allowed. Beneath this the left hand plays a free, floating melody which begins diatonically and becomes increasingly chromatic. This seemingly simple set of rules is in practice not so simple to bring off: the rules, strictly applied, demand a high level of artistic imagination and harmonic knowledge to achieve a result that is artistically convincing without sounding merely academic.
Piano Figures forms the basis for Benjamin's orchestral work Dance Figures (2004). Seven of a total of nine "choreographic sketches" for orchestra are based on pieces from Piano Figures, orchestrated and in some cases substantially expanded by the composer.
George Benjamin's Piano Figures is published by Faber Music.
Further information about the projekt Piano Figures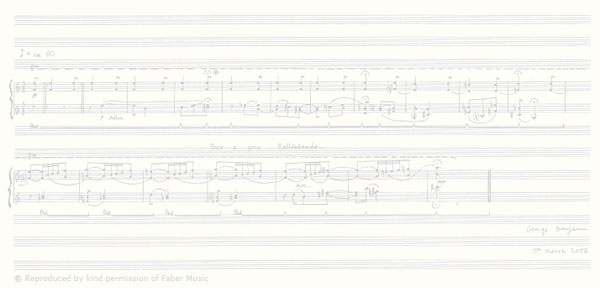 Piano Figures is a collection of ten concentrated miniatures for piano lasting about 15 minutes. Most of the pieces are written to fall within a child's stretch. In the following short films the different pieces are introduced by George Benjamin and performed by Pierre-Laurent Aimard.