Piano Figures - Exploring contemporary piano music
The Project
All too often new works for piano remain in the realm of the expert. This does not have to be the case; that contemporary music can enthuse children and adults with very different musical backgrounds and pianistic skills was demonstrated by the Discovery project, Piano Figures, which took place during the Klavier Festival Ruhr 2007.
Piano Figures, the music at the heart of the project, was written in 2004 by the British composer and conductor George Benjamin (b. 1960). Piano Figures is a collection of ten concentrated miniatures for piano, each written as a solution to a specific compositional task. Each piece is given an evocative title and is written within the stretch of a child's hand. Benjamin originally wrote the work for his nephews and nieces. Nevertheless Piano Figures is not a set of didactic children's pieces, but sophisticated piano music, rich in imagination.
Video: The Project Piano Figures | © 2007
About the project
In a series of music workshops which took place in Essen in May and June 2007, pupils and teachers from the Folkwang Music School and students from Folkwang University worked creatively with Benjamin's music. Starting with compositional tasks based on those that Benjamin set himself when composing Piano Figures, they developed and performed their own piano miniatures.
Meanwhile the French piano virtuoso Pierre-Laurent Aimard, a leading champion of contemporary music, worked on Piano Figures with four young pianists from his class at the Music University in Cologne. The high-point of the project was a concert on 18th June, 2007 in a well-attended Robert-Schumann-Saal in Dusseldorf, when the first German performance of Piano Figures was given by Aimard and his pupils with introductions and explanations by Aimard himself.
Video: George Benjamin Piano Figures | © 2007
The Discovery Project Piano Figures was a collaboration with Pierre-Laurent Aimard, George Benjamin, Folkwang Musikschule Essen, Folkwang Universität der Künste, and Hochschule für Musik und Tanz Köln.
Concept and project direction: Richard McNicol and Tobias Bleek
Further information about the projekt Piano Figures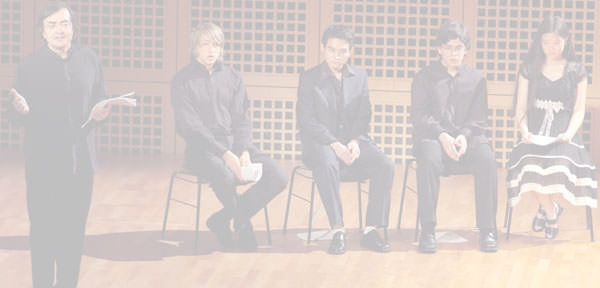 The aim of the education project was to approach Piano Figures from a number of different angles. Four young students studied the work with Pierre-Laurent Aimard. Parallel to these pupils and teachers from the Folkwang Music School and the Folkwang University, Essen, took Benjamin's musical ideas as a starting point for their own creative work.